-About a Girl-
Tuesday, May 31, 2005
Online booking for dummies
Oh my fucking god. I'm such an idiot. I've really done it this time.
People, I am SCREWED.
Several weeks ago, I booked an airticket to M'sia via the British Airways website...I assumed that they would send me an email with all the booking info like reference number, how I'm supposed to check in without a cold hard ticket (never done this online booking before), etc etc.
But guess what?
THEY NEVER SENT THE E-MAIL.
They would've prolly given me a reference number when I booked the flight, but if they did, I would've written it down, right? Or am I really that stupid? So now I haven't the foggiest idea about what I'm supposed to do, nor can I recall the major details of my booking, ie the time my flight leaves. And how on earth am I supposed to check without knowing my reference number??
Worse yet, my flight only reaches Singapore...I plan to find some other mode of transport to actually cross the border and reach sweet home Subang Jaya in one piece (I have a paranoia of losing/forgetting my passports -i have multiple nationalities- and being thrown into jail).
Without my reference number, how am I supposed to do all this..?? I want to go home!!!
Am I blaming British Airways...? DAMN STRAIGHT I AM.
They have to know that there are irresponsible people like me who need things like emails (that stay put and not disappear after the site is left, ala reference number thing) to make their way around the world.
Hell yeah, I'm beyond screwed....I am power-drilled, sledge-hammered, super-glued, and silicon-gunned for extra effect.
This is one of the many reasons why I should never have kids.
Posted by Closet Groupie :: 11:34 PM :: 4 Comments:


---------------oOo---------------
Sunday, May 29, 2005


Sometimes I really wonder why I go out of my way to do nice things for family; they never end up appreciating my efforts, and always end up giving me flak for it. No, I will never do nice things for them again.

But I had a lovely day, bought alot of stupidly meaningless yet somehow emotionally satisfying material posessions like a boho skirt with arabic coin thingies all over that make a wind-chime noise when I walk, that I won't be able to wear without surely attracting (negative) attention; sam is just sweetness.

=)

Are you a paranoid person? I tend to be, except at the wrong times...I blow the tiniest possibilities way out of proportion (is that how you spell it?). I'm always hit with the paranoia of someone I love and treasure being hit by a bus and dying, or something...we could all die any second now. Its a freaky thought, no?
Posted by Closet Groupie :: 10:14 PM :: 0 Comments:


---------------oOo---------------
Friday, May 27, 2005
Random Shit
Work is greatly effecting my mental and physical health, I need to do something about it.
I bought a piano!! And its coming tomorrow!!
Ew, that rhymes.
I had the time of my life yesterday night. It was all so spontaneous and cute and innocent...haven't had so much fun in a long, long time.
Its so nice to finally find someone who's company I enjoy so much, and wh0's yet so different from me but in some ways, just like me.
I drove my auntie's car last night around the supermarket carpark....you should've seen my auntie and cousin gripping their seats in fear.
have you met amie?




Uh....seriously, I need to stop kissing girls.
Posted by Closet Groupie :: 11:25 PM :: 3 Comments:


---------------oOo---------------



I know, I know...I said I wouldn't blog again, but blog abstinence, if you would put it that way, is hard when its become part of your everyday routine.

Ignore the previous post...or you may take it into account, but write it off as senseless rambling; a good cry fixed it all and I am happy now, and I had a wonderful, wonderful dinner last night and recieved a beautiful indian bracelet in the process. Ah, life is sweet.

Excuse me if I worried you in anyway; forgive me?

Do you bite your thumb at me sir..? No sir but I do. =)
Posted by Closet Groupie :: 4:02 PM :: 0 Comments:


---------------oOo---------------
Tuesday, May 24, 2005


I fucking hate my life.

I don't even wana begin to tell you how sucky work was today.

I don't have the will nor the energy to talk about anything else anymore; I just want to sleep and never wake up, at least good things don't fuck up in my dreams.

Don't be surprised if I don't blog in the next few weeks, or maybe even ever.

Thanks for reading.
Posted by Closet Groupie :: 10:17 PM :: 4 Comments:


---------------oOo---------------
Monday, May 23, 2005
We're romeo and juliet

*sarcastic enthusiasm* Sooo, the half yearly exams are here...already!

We had English, Science and PDHPE today...I've been fretting all week but didn't actually get around to getting a book and studying it. And today, on the actual day itself, all I could think of was: " Did I leave the iron on this morning? What if I did and the house caught fire?? Its gona be all my fault! But then again if it DID catch fire, someone would come and inform me. Hmm, maybe I should run home and check..." and so on and so on. Geez, I amuse myself. And the exams werent even that hard; as a matter of fact, they were bloody easy!

"O brawling love, O loving hate, O anything, of nothing first create" -Romeo & Juliet.

Does anyone understand what the last part of it means? Of nothing first create? huh? Even a literature enthusiast like me can't decipher it. I'm guessing it could mean that at the end of the day, brawling love & loving hate won't amount to anything in the end.

What do you think?
Posted by Closet Groupie :: 10:47 PM :: 0 Comments:


---------------oOo---------------
Saturday, May 21, 2005
Eternal Sunshine on the Spotless Mind

Hello, take a little trip into my mind. Where do I start?

Step inside...I'm in this dazed and confused state. You know, when your mind is so clogged up with all this thinking thinking thinking that in the end your brain just fizzles out and ends up in this semi-functionary state, enough to do what you have to but nowhere near enough to do much else. Like now, my exams are starting day after tomorrow, and I haven't touched a book, nor do I intend to.

For the past 3 hours I've been listening to my Cat Empire CD over and over and over again, the song "Lullaby" in particular, and not doing much else...I just LOVE Cat Empire, so much that I want the whole world to listen to them and like them too...alot of people don't like them, but honestly now, HOW CAN YOU NOT LIKE CAT EMPIRE?? Listening to them just makes me so happy, or maybe just calm, I don't know, but I know that I like the effect it has on me.

I really want to smoke up the 2 sticks of weed I have in my handbag, but can't bring myself to walk outside and cut the gardening hose. You see, I don't know how to roll a joint. How sad. All this while there's the words "exams next week exams next week" nagging in the back of my mind. My complacency amazes me.

A bit deeper and further in now..I wonder why I think so much. Its like you try to figure yourself out, to disect all these tiny parts of you to get some idea of who you are, you end up confusing yourself even more. Like there is this side of me that just wants to travel all over the world with no direction whatsoever, and take photos of all the exotic, quirky things I find, all this while smoking weed and just kicking back, with someone just like me that I can talk to about anything, and listen to all the music this pretty world has to offer in all its glory, in eternal sunshine and no ugly grey rainclouds. Desires can be so simple yet so unsatisfiable.



A life devoid of expectations and worry

...that's what I want and what I need. Am I alone in this, or do you want that too?
Posted by Closet Groupie :: 1:55 PM :: 3 Comments:


---------------oOo---------------
Friday, May 20, 2005


You know what? It feels like I haven't blogged in AGES when in fact, its only been two days. All day long I've had this whole list of material mapped out in my mind for me to blog about, and my brain being its usual useless self again, seems to have forgotten everything again.

So I shall blog again about my oh so interesting life. *insert sarcastic response here*

Ok well on second thought, I won't. No I won't tell you about the crazy scavenger hunt we had at the plaza yesterday whereby we had to do things like slap strangers arses, ask the Information desk person to say 'Viva La Bam'(Bam being that skatie dude who's got a show on mtv or sth like that), ask strangers for their food, drink 1 litre of milk...*sigh*

*sighs again*

*and again*

I've been super stressed out lately...I know I'm always stressing myself out but its pretty bad this time; there's so many things I feel I need to get done but can't bring myself to do. Like study for next week's mid yearly's. Or get around to buying all the stuff I've been meaning to get for ppl back in m'sia. Or actually sitting down and doing my geography assignment, which let me remind you (and myself), was due last month.Before the holidays. Yes, I am THAT lazy.

Actually, you know what?? I don't really think I'm a lazy person. I honestly don't. It's just that all my life, I've been told by everyone...parents..teachers...aunties...bla bla bla all you boring adults, that I'm lazy. I AM NOT LAZY. In fact, when I actually have a genuine interest in something, I work my ass off to do it. I just have a short attention span and never had interest in school subjects, esp stuff like geography and science...I fcuking hate those subjects. Wtf is so fun about learning about different types of rocks or how to calculate motion or crap like that??

And yet I still do what I have to...I listen in class, do (some of) my work, stay out of trouble. Why? Because the one thing in this whole entire world that I'm shit scared of is failure. I CANNOT FAIL. Fcuk all that Dare to Fail bullcrap...Failure is not an option for people like me who have smart arse parents who expect their kids to turn out just like them. I really don't wana sound like a whiny little girl but then again, there it is. As much as that attitude annoys me, in the end your parents are your parents, and really, all I want is my parents' encouragement and support to do what I want, not what they want me to. Because I've never gotten their support They've stuck their expecations of me so deep in my mind that I myself am confused now...I honestly do not know if my plans for the future like going to university, being rich and succesful etc etc are what they want and not what I want.

And it honestly feels like they've killed all my hopes and dreams, and hardly ever approved of things I did in my own interest. Which I guess is part of the reason I left. I say 'I guess' because I myself don't really know why I did it...I'm still figuring it out. But I do know that I always feel this need to prove people wrong, to rise above doing what I want...to MAKE SOMETHING OUT OF MYSELF.

Because I don't wana end up like my mother, who has a bachelor in science that she never made use of.

Or my dad, a high flying lawyer who's always so caught up in his work that I hardly ever saw him on weekdays, who, half the time, doesn't seem to like his job very much and talks about quitting, who, up till now, I can't have a decent, heartfelt conversation with...who basically doesn't have time for his family.

I think I'll just stop here....if you think I'm being whiny, well fuck off, I never asked you to judge me in the first place.
Posted by Closet Groupie :: 11:19 PM :: 3 Comments:


---------------oOo---------------
Wednesday, May 18, 2005
Jason Mraz, marry me.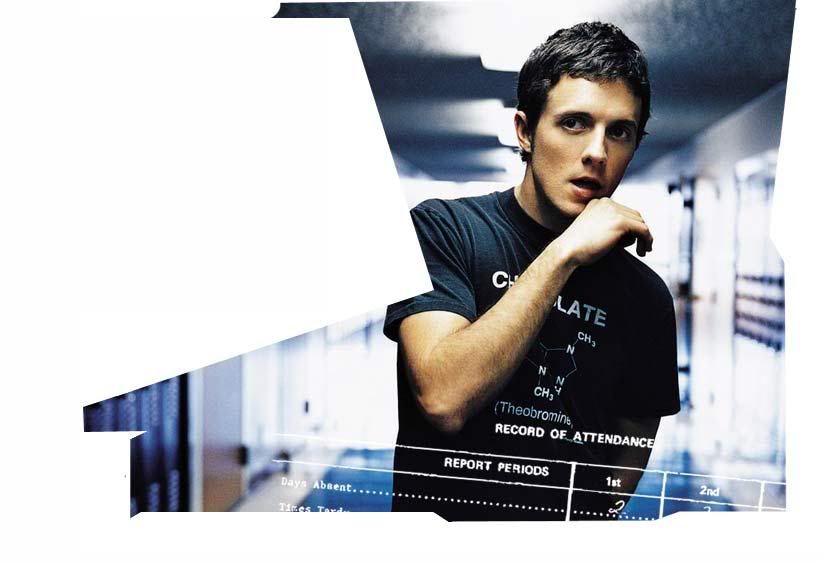 How adorable is he..! Aaaaaaah!!! When I watch the video for "You and I Both", I just melt. Just look at those eyes just LOOK AT THOSE EYES. How can you not melt?

*melts*
Posted by Closet Groupie :: 11:19 PM :: 3 Comments:


---------------oOo---------------
Sunday, May 15, 2005
People who know about cameras, I need help.

Erm yeah, I need help. You see, I really wana take this photography thing seriously, but I need a proper camera first to do so. So I'm looking to buy a nice, good camera with those big lens that look all complicated and professional....basically I wana look cool while taking pictures lah. =) Ok seriously, I don't want cameras that look like this:




...because they're just for fun and don't give you alot of freedom and options in terms of detail and shit. I want a camera that looks like this:




Catch my drift?

Anyway, my prob now is that I know nuts about professional cameras, ie best price, best models etc, so if you know anything about them, DO help me out and I'll make you my best friend forever. =)
Posted by Closet Groupie :: 3:45 PM :: 8 Comments:


---------------oOo---------------
Saturday, May 14, 2005


Went with Ardie to penrith yesterday after school to find him a job...it was fun, walking up and down High Street looking for fcukin Thip Tong Thai, the other thai restaraunt where I knew that they needed staff, since the new waitress at 3 Junction where I work used to work there.

I just found him so hilarious, I felt like his mother; he's never caught the bus before and was asking me what to say to the bus driver, and didn't know what to say when asking for the job, so I practically asked for him. Nina caught the same bus as us cos her mum has a fabric shop on High Street as well...Ardie was being such a dick to her, and she has THE biggest crush on him. oo gossip, gossip, how we all love it. He's sexy and knows it, but for some reason I'm not that attracted to him, probably cos he's too dumb and up himself for my liking. Oh wait, most high school guys are like that.

Anyway, he got the job! And its all cos of me. Now he's forever indebted to me and must do anything i tell him to. Good plan right? *pats self on back* =D

Lalala...Sam's been sending me interesting cryptic sms-s...its weirding me out a bit. I don't want him anymore. haha. my ADD is still haunting me.
Posted by Closet Groupie :: 12:56 PM :: 0 Comments:


---------------oOo---------------
Thursday, May 12, 2005


Ok here's the deal, I'm leaving for m'sia on the 28th of June which is, coincidentally, *cough cough* a week after my birthday (21st June), and no its not too late for presents. DO get me something, anything, I LOVE presents. =)

Anyway, people and friends and people in general whom I've been making plans with to meet up, or whom I'd like to meet up with:

melissa (dont perasan that ur on top sayang, just that i happen to be on msn with you right now =>)
ame
val
david
penny
rachel (gouk)
mandy

calvin
daryl
wei keong
other old friends from usj 4
lionel

akmal
joshua
sri sedaya in general
nazleen

frus

suet li
baz
other baz

clement
other fellow bloggers
Yeah erm, thats all I can think of now, my mind is a bit hazy so do forgive. Anyone else up for a meet?
Posted by Closet Groupie :: 7:02 PM :: 3 Comments:


---------------oOo---------------
Monday, May 09, 2005


OMG OMG OMG The white stripes new album is coming out in June...have you heard 'Blue Orchid'....? If you haven't, I suggest you go buy the single, yes BUY THE SINGLE, not illegaly download it, because the white stripes are a band worth spending money on.

*SCREAMS HEAD OFF*
Posted by Closet Groupie :: 7:40 PM :: 0 Comments:


---------------oOo---------------
Sunday, May 08, 2005
You may say I'm a dreamer, but I'm not the only one.

I'm tired, stressed out and down, so down its beyond rock bottom. Was reading the newspapers about Douglas Wood, the Australian who got taken hostage some time ago in iraq. A second video was released of him once again, pleading for his life, and saying that he had 72 hours for the US and Australian troops to be drawn out of iraq. This time, his head was shaven and his eyes swollen and bruised, and you could see all the terror and fear on his face.

Upon reading this, I just broke down and cried; what kind of people would do have the nerve to do this to another human being? He's innocent, he's not the one who sent the troops to Iraq, he's not the one they should take. The government will not do what the terrorists want once again, because of their policy and I respect that, but i wondered: Imagine if someone really important, lets say Bush, was the one who was kidnapped? Then what would the ones with power do?

And then I just felt this enormous wave of guilt; why can't this world show more compassion for the less fortunate, why do we have to be so selfish and work for only the benefit of ourselves, when we can do so much more? I know alot of people who just couldn't care less....Stop and think, people. Especially if you have the freedom and power to, why are you sitting on your ass and not doing something good for others for once?

All we do is talk talk talk....matter of fact, I should stop talking as well, and do something for once. And you should do so too.
Posted by Closet Groupie :: 11:21 PM :: 0 Comments:


---------------oOo---------------
Saturday, May 07, 2005
Bible bashers

I must blog about this...funniest thing ever, or at least to me anyway. I must forewarn you though, if you're an extremely devout christian who likes to flaunt your choice of religion left right center (when religion is supposed to be a personal thing in the first place), this is not for you. I'm fine with people having any religion, but I must tell you that I really, really dislike overly devout fanatics.

Few days ago, Amie, Tabitha, Tyree and me went to the Plaza after school. We caught the bus, and this particular bus went around the area picking up kids from other schools, including this christian school. I should let you know that Tab wears black eyeliner, has an emo haircut, wears black clothes and listens to bands like H.I.M and the likes, and is regularly misjudged as a devil worshipper, anti christ etc etc. So anyway, the bus was going around and picked up kids at the christian school. Mind you, the bus was only half full when we got on, but the christian school kids filled it up to the point where this guy's ass was in my face everytime i turned to the right.

The christian school kids, upon seeing tabitha in her HIM shirt and black eyeliner, must have thought, "Oh dear, we have to save this poor girl's soul and salvate her from the wrath of satan" or something. Here's the funny bit: Much to our amusement, this preppy girl from the christian school decides to take matters into her own hands, pulls out the Bible and starts preaching to Tabitha, right there and then in the middle of the bus in front of everyone! I was laughing hysterically, I couldn't believe the stupidity and naivety of this girl...and half the bus was laughing along with me.

All this while, poor tabitha was half terrified, half laughing and screaming that she wanted to get off the bus. This went on for about a full 7 or 8 minutes, and when we finally reached the plaza, tabitha made a dash for it, yelling "Bible bashers! bible bashers!" You'd think that that would offend them, but nooo not these kids; they weren't done with her yet. The preppy girl and her posse of about 7 other christian school kids chased tabitha up the stairs and through the doors, all while the rest of us were still laughing our asses off. I don't know what made me say it, but the "God is Fake" flyers popped into my mind and I told the girl, "God is fake!" and she replied, disgusted, "You're fake!", and continued following tabitha around for a good half an hour in front of all these people before she finally gave up. Poor tabitha.

Note: I wasn't trying to offend anyone, just trying to help tabitha fend off the girl; honestly now, do you think chasing someone around in a public place with a bible is gona make her go to church?? Exactly.
Posted by Closet Groupie :: 1:04 PM :: 6 Comments:


---------------oOo---------------



Ah, alas, my internet connection has been down for the past few days. I've had a really bad week, I guess its just THAT time of the month again, but this ONE good thing happened on tuesday, and I blogged about it juuust before my connection went kaput.



Fate has an uncanny way of torturing me with horrid dilemmas...The feeling's wearing off, but I'm still hopeful...but guess what, my boss thinks its unfair that I'm working so much (I really don't mind), and today he gave me a choice between working on tuesdays or sundays, argh! Working on sundays are fun, because the restaraunt is busy on that day, whereas tuesdays are kinda tame, but....I'll choose tuesday. =D



Was gona blog about the rest of my week but, screw that. Here's some pictures to look at instead, because people would rather look at pictures than read.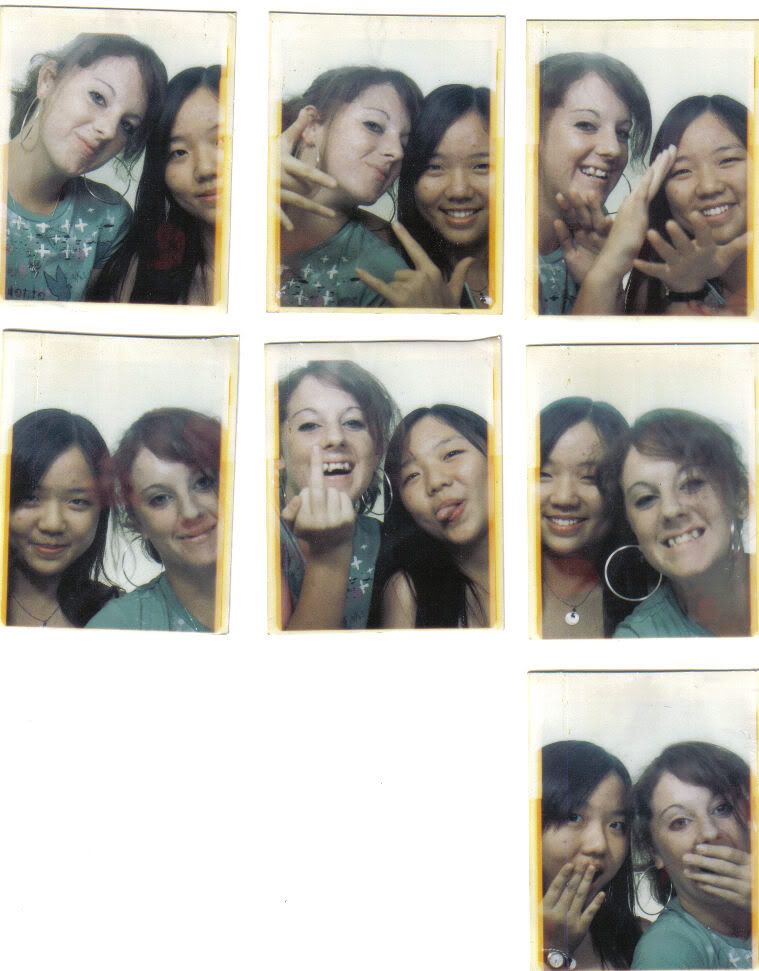 oh and, I bought Cat Empire's album, Two Shoes. You can now officially call me a cat empire closet groupie. shalalala...Man U are waaaay better than Juventus OR Liverpool anytime, Amie.



Posted by Closet Groupie :: 12:05 AM :: 0 Comments:


---------------oOo---------------
Monday, May 02, 2005
Sweet Home Subang Jaya

Listening to: Bitches Ain't Shit - Ben Folds (Dr. Dre Cover)
Mood: Shit.

My aunt really gives me the shits sometimes. Every day for the past 2 weeks, I've been trying to book my air ticket to M'sia scheduled for the 28th of June, but everyday I'm about to book it, she'll say, "tomorrow, tomorrow, can't you find a cheaper one?" So fine. I hunt around my ass off for a fcuking cheap ticket even if I can afford a better one, and yesterday I finally found a cheap one, but its on British Airways, instead of Malaysian Airlines or Singaporean Air, the ones I prefer. Seriously, MAS is the coolest, they let you create your own playlist to listen to throughout the flight and they don't give you just any shit music, its Scissor Sisters and the Killers and all that.

So yeah anyway, yesterday I finally found a cheap ticket, but she gave me the whole 'tomorrow' thing again. And finally today, I book the ticket. Let me remind you its on fcuking British Airways, I mean no offence to them, but their food is shit. Oh well, I booked it anyway, and only AFTER the credit card thingie went through and everything, does she ask me what time the flight is. Uh oh. Its at 3.55 pm, meaning no one can send me cos both my aunt and uncle will be working. Thing is, when you book a cheap ticket, you don't get as many options as you can get with pricier ones, and hence my situation. And so the woman gets mad at me and just walks off and goes 'whatever'.

At least I THINK thats why. But shit, why so agro? You pay less, you get less. Why does she have to get whiny and pissed off at EVERY singly thing? Is it cos she fcuked up her life by quitting her high-paying job in a bank and got screwed by so many people who borrowed her money and skipped town? Or is it cos she abandoned her children and went to Korea and did practically nothing for 2 years? Would you like me to tell you more?

And so here I go again, tomorrow I guess I'll call British Airways and try my damndest to reschedule, fix it, whatever. Because I am always the one compromising and giving in and obliging to make everyone else happy.

Silly, silly me. At least I'm going back in less than 2 months. yay.
Posted by Closet Groupie :: 10:27 PM :: 2 Comments:


---------------oOo---------------

Idiot box.

Its a sick, sad world. No offense, but I think Australian media is just a load of bollocks, they are scandal and celebrity obsessed and exploit anything and everything they can. Oh wait, that's how the media works, doesn't it? Was watching the news today; they showed a video of yet another Iraqi hostage, this time a 63 year old australian man working as a contractor for the US Army in Iraq. Imagine this: A 63 year old man, close to tears, begging for his life, pleading with our assfuck of a prime minister to do the right thing, and all this while 2 guns are aimed at his head.

The government will not pay a ransom to the kidnappers nor give them what they want, and why? because of their fcuking policy of no negotiation with terrorists, but in the mean time they will "do whatever they can to help a man who's life is at stake". John howard said something along the lines of, "We are deeply distressed and will try our best to help this man out", yadda yadda yadda. I mean, I just don't get it. Politicians are meant to be smart people, so why do they not see that no amount of hesitation and pretentious ramblings will do any good nor benefit anyone but themselves? I think we all know that this man will die in the next few days, and it will all be because of the government and their stupid policy.

Shortly after that, there was another piece of news about a 60 year old stockbroker who killed himself; he was depressed and just talking about wanting to die all the time, and so he shot himself in the head today. The news people handled this by having a discussion about the man's sucide and as to why he did it, as if it was just another scandal and not a tragic loss of human life...they asked ridiculous questions and gave very obvious, very boring answers. It made me wonder, geez, do people REALLY wana know what some boring old faggot in a gray suit thinks of the suicide of a man he didn't even know? Its bad enough that the man is dead, but will they let him rest in peace? Nooooo....they have exploit his death on the idiot box.

I don't know how to end this, so let me just say that...the media is GAY.
Posted by Closet Groupie :: 4:44 PM :: 1 Comments:


---------------oOo---------------